KRYSTAL GLASS COMPANY
Helping people enjoy their homes, businesses, and yachts by creating one-of-a-kind custom glass etching that becomes the focal point of the room and the topic of conversation.
Custom Fine Art Glass by Peter Edward
(561) 601-4181
Spectacular Custom Glass Etching With Exceptional Customer Service Since 1980.
Stunning Krystal Glass Company Showpieces for Sailing and Entertaining in Luxury.
Image Galleries of Custom Glass Etching
Sq. Ft. of Art Glass Created
Thank You For 35 Years!
Glass Artist Peter Edward & Karen Jurgens
About Us
What Our Clients Are Saying
Don't just take it from us, let our clients do the talking!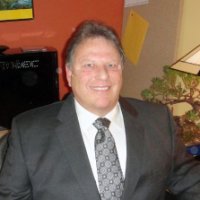 "Thank you so much for the beautiful piece of art. Pete created a masterpiece. The detail, creativity, flow of the etched glass exceeded my expectations. She is beautiful and so far has amazed the carpenters, the electrician, and Kathy and I. We just love it. Pete is remarkable in his talent and the best to both of you."
Doug & Kathy
Gobles, Michigan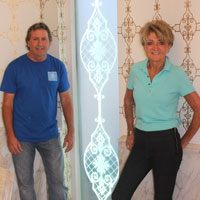 "Krystal Glass Company is a wonderful company to work with on many levels including design, detail, and scheduling. The custom designed and etched art glass windows are the first project I used Krystal Glass Company for. Their quality and finished product was excellent."
Linda Cohen, ASID
L.A. Cohen Design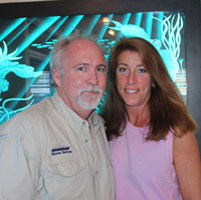 "It's truly gorgeous! It truly is a work of art but I'm sure you hear that all the time! It's fabulous. We just love it. The main reasons we selected Peter Edward and Krystal Glass Company are their flexibility, hands on one-on-one attention from the artist, and the attention to detail that went into the project." 
Steve & Patti
Marietta, Georgia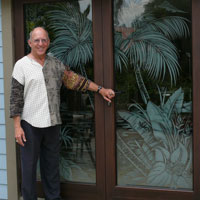 "Krystal Glass Company is easy to work with. They take control of my referrals and I don't have to worry about follow-up. The quality of workmanship has always been top-notch, you can tell by how nicely the design "flows" that the job was never rushed. I have several sources for glass etching but  I always recommend Peter Edward."
Dennis Smith
Seacoast Window & Door
Share With Friends